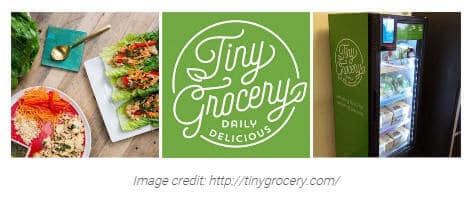 Vending machines have long been considered quick, cost efficient and effective at ways to get a few small items when you need them the most. If you're thirsty or a bit hungry during the day, a vending machine is a great way to get a quick snack in between classes, or on a short break at work. However, what if you needed larger products in the same quick fashion? What if you were trying to pull the ingredients together for a full meal and still maintain a healthy diet at the same time? One Washington DC-based company is aiming to solve all of these issues and more by using the latest and greatest that vending machine technology has to offer.
scratchDC is a company that originally became known in the Washington DC area for its meal delivery services. Owned by Ryan Hansan, the scratchDC team has made a name for itself over the last several years by dropping off pre-measured ingredients to the homes of customers in the area – allowing them to quickly get together everything they need to have a gourmet meal without leaving their home. Now, scratchDC is taking those benefits to their logical next step by way of their TinyGrocery vending machines.
As its name suggests, the TinyGrocery vending machine is a way for scratchDC to quickly get both ready-to-eat meals and dinner meal kits out to customers in the most efficient way possible. As of June 2015, there are currently 10 TinyGrocery machines located throughout Washington, DC that allow users to purchase meal kits for breakfast, lunch and dinner at a moment's notice. scratchDC has strategically placed these supermarket vending machines in apartment complexes, office buildings and even gyms – allowing customers to both go about their normal daily obligations and still enjoy the benefits that the company is offering at the same time.
These mini grocery store vending machine units have a built-in tablet computer that allows users to find out the price, allergens and even nutritional information for each item. All a user has to do is swipe his or her credit card to unlock the door after a purchase is made to gain access to the items they need.
One thing for sure – companies like scratchDC are pushing the envelope regarding what is expected from a traditional vending machine and exactly how you can take advantage of the format for the benefit of consumers everywhere. When you consider just how far vending machine technology has come in the last several years, it's incredible to think about how advanced they will be five, ten or even fifteen years from now.