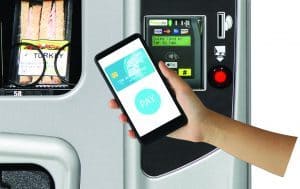 Is it just me or do people carry less cash around than they used to? The only time I've been paid in cash was my allowance growing up. God bless my amazingly generous grandfather who still pays cash taking our family out to eat, but I normally see most people using other cashless forms of payment. If my friend owes me money or vice versa Venmo is likely where we'll complete the transaction. Credit cards and mobile payments make it easy to spend money without having a wad of cash bulging from you pocket. Customers at vending machines that accept cashless payments are not limited by the amount of change or bills they have with them. They can spend more money and they can do it easier. Here are some facts that support the profitable trend toward cashless transaction systems for vending machines.
"American adults under 30 dislike using cash so much that 51% of them use credit or debit cards for purchases — even for transactions under $5 (the price point where vending lives)," said Christopher Blomquist, Parlevel's marketing content manager in a Vending Times article.
In a study of 84,000 vending machines by USA Tech, 10,600 were low volume machines with less than $2,000 in pre-cashless sales per year. After accepting cashless payments the 10,600 machines reported an 86% growth in top line sales after 18 months. Machines adding cashless transaction systems increased average monthly sales from $104 to $193. According to USA Tech, vending consumers spend 37 percent more using cashless credit, debit, NFC contactless or mobile wallet payments than they do using cash. Annually. total sales in machines adding cashless payments goes from $1,248 to $2,316. A more recent Vending Times article notes a Parlevel Systems study that states cashless machines have an average transaction that is 40 cents more than machines that are cash only.
Cashless payment systems are very important to the profitability of a vending machine. Vending.com provides the Greenlite cashless payment system to help vending operators embrace the need for cashless payments. Efficient and easy to use, Greenlite will make sure you do not miss a cashless purchase. Greenlite also offers important tools for product management that makes it simple to track what's gone in and out of your machine.