When it comes to boosting your profits, you'll want to accept as many forms of payment as possible. Consumers who have the ability to pay according to various methods have a higher chance of becoming not only a customer, but a repeat customer.
Did you know that one in five people don't ever carry cash on them? This means that they can't make a purchase if no other form of payment is offered.
Here are three important facts to remember about cashless vending payment systems:
There are more than a billion transactions in the US each year that don't involve cash.

Over the next few years, these transactions will increase by as much as 16%

Cashless workplace transactions total 27% on average, which is a 62% increase when compared to the past two years
Greenlite Cashless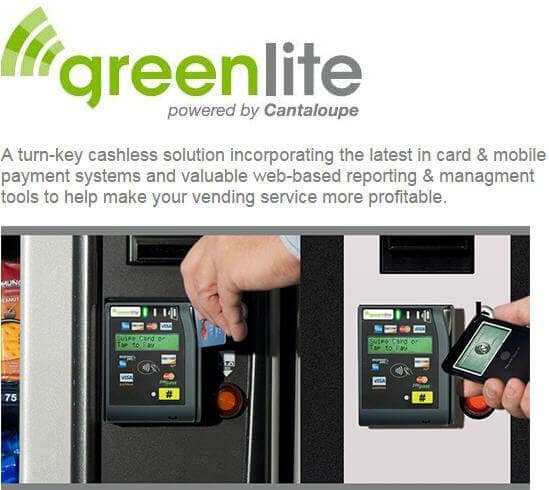 Greenlite by Vending.com
With Greenlite cashless vending payment systems, you're able to customize your vending equipment so that multiple types of payment can be accepted. The software also facilitates processes that reduce the costs of filling the equipment thanks to integrated remote reporting. Relying on web-based reporting and management tools, Greenlite vending allows businesses to increase their return on investment in a very significant way.
One of the biggest advantages of the Greenlite cashless vending payment system has to do with the type of machine sales tracking that it offers businesses. Before, you may have been used to using your best judgment regarding which types of products you should be ordering and in what quantities. With machine sales tracking, you now have actionable, real-time information regarding trends, likes and dislikes that are all derived from actual consumer behavior. You can not only tell what products are selling but how quickly and at what times of the day. Businesses no longer have to rely solely on "instinct' when it comes to making purchasing decisions – they now have actual hard data that they can use instead.
Greenlite also allows businesses to integrate two-tier pricing depending on location. A business might offer a discount on certain items for people who choose to pay with cash, for example. The system also includes helpful alerts that will provide constant updates on the health and status of the machine in question, making it easier to identify when repairs are necessary and when replacement parts need to be ordered.
Mobile Payment Within Vending
Vending.com is helping the vending industry keep up with the mobile payment trend by working with key partners such as PayRange. Through this partnership, PayRange can be added to Vending.com's vending machines for sale. Faster than inserting coins into a machine, PayRange cashless vending payment system is the quickest way to pay for the things you do often. Use all major credit and debit cards or add funds via Apple Pay, Android Pay or Masterpass.
Have questions? Ready to give it a try? Give us a call at 1-855-712-8693 or visit our website.