The snack vending machine size you choose depend on a lot of factors: the size of your location, the demands of your customers, the dimensions of door frames and spaces allotted to you, and even the amount you have to budget for new machines.
Vending.com has a wide variety of snack vending machines for sale that are able to fit the bill for any vending operator. In this blog, we will break down the benefits of a few of our vending machine sizes.

Our 12 Selection Machine is ideal for locations where space is limited but you still need the capacity and flexibility of a professional vending machine.
Our most popular vending machine, the 23 Selection machine is perfect for nearly every vending location. This machine delivers a lot of value for a great price.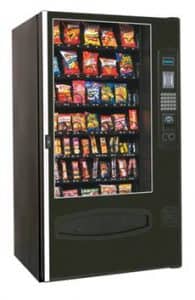 Our 47 Selection machine offers the largest capacity in the industry! The reconfigurable product selection spacing and auger timing make the vending possibilities of this machine limitless!
About Vending.com
Vending.com brings together a multitude of vending expertise through our circle of services. Everything you need to start, grow, or manage your vending business is provided through our easy online access. We provide vending services, financing, vending industry news, technical repair, parts and much more. Vending.com is one of the companies under the Wittern Group umbrella. Whether you are an entrepreneur starting your own vending machine business or expanding your current business, Vending.com offers you a full-range of vending machines, financing, location assistance and other services to meet all of your vending needs. As a full-line vending sales company we provide customers nationwide with the right equipment for their client's location. Our large selection of snack, soda machines, hot beverage, cold and frozen food and other quality vending machines can be configured and customized to fit any size location from small businesses to large factories. Let our network of vending machine companies go to work for you.