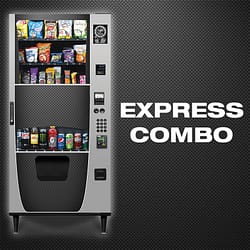 The vending industry is constantly changing and evolving and it is our job to ensure that we are changing and involving with it. This could be introducing new machines, enhancing the technology features on your current machine or even changing the look of your vending machine. Vending.com has done just that and we are excited to introduce to you the Express Combo Vending Machine. 
The Express Combo Vending Machine is the ultimate machine when it comes to satisfying your customers. This updated vending machine includes 29 selections, 9 drink and 20 snack, so you are sure to give your customers exactly what they want. These products are sure to pop with enhanced LED lighting that comes standard on the merchandiser. Additionally, you will have the ability to load the products with ease with tilt-out snack trays. 
In order for a vending business to be successful, it is important that it is easy to use. The Express Combo Vending Machine is Americans with Disabilities Act (ADA) Compliant, which ensures everyone can use your machine with ease. This important vending update also comes standard with an electronic bill and coin acceptor. If you are, however, worried about bill and coin acceptance not being enough, a cashless card reader, such as Greenlite, can be added to the Express Combo. Now, your merchandiser can accept bills, coins, credit / debit cards and mobile wallet payments. Greenlite also has the ability to increase vending sales by 15-30%. 
Nothing is more frustrating to customers than when you purchase a snack and it gets stuck in the vending machine coils. One of the many benefits of the Express Combo Vending Machine is that it comes standard with the iVend Guaranteed Delivery System. It ensures that your products will be delivered to your customers, or they will receive their money back to try again for the same product or a completely new product. It turns your frustrated customer into a satisfied customer.
Growing your vending business can be tough if you are not willing to grow with the vending industry. The Express Combo Vending Machine will allow you to cater to your customers and understand their needs. To find out more about this merchandiser, other Vending.com merchandisers, or how to take advantage of our vending machine financing, call us at 855-253-7880.