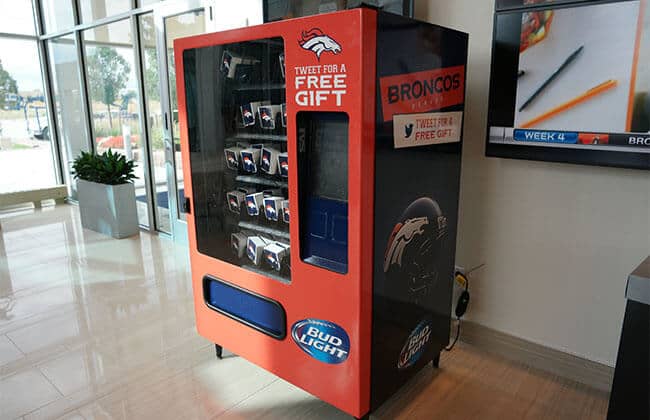 Social media in general is one of the most significant innovations to come along in quite some time. Not only is it a way to effectively make the world smaller by making communication easier regardless of geography, many different types of businesses are now using it as an organic and even fun way to increase consumer engagement exponentially. Case in point: the Denver Broncos professional football team has recently teamed with a vending machine manufacturer to give away free items via vending machines that are powered by one of the most popular advertising and social networking sites of them all, Twitter.
The Denver Broncos
Sponsored by Bud Light, the Denver Broncos recently placed a series of Twitter vending machines inside their football stadium. Considering the fact that thousands of patrons excitedly pass through the halls of the stadium each Sunday, this vending machine was a very well thought-out advertising plan.
The vending machine instructs users to send a tweet using their own Twitter accounts to the @BudLight handle, the official Twitter page for the beer manufacturer. The machine also gives those users a three digit code to include in their tweet. Soon after the tweet is sent, a mechanism is automatically triggered and the machine will give them a prize completely free of charge.
Though the machine is sponsored by Bud Light, the prizes do not involve alcohol. The Broncos have added a bit of a contest element to it, giving users the chance to win ticket upgrades, unlimited catering, interaction with Broncos alumni and players and more. Prizes can even be highly expensive or even collectible and can include things like Bud Light skis signed by Jake Plummer, wearable merchandise and yes, even vouchers for free beer to be redeemed at any point during the stadium.
Because the promotion is completely free, users are flocking to the machines in droves. Users get free prizes and the Broncos and Bud Light get an inexpensive marketing campaign that spreads their brand messages to millions of people each game day.
The Twitter vending machine is just one of the many modern examples of social advertising vending in practice. It's not just a benefit for businesses, but for vending machine companies themselves – they get to push the envelope on innovation and release products that people can't help but take notice of at the same time. By understanding just how powerful social media is and the ways in which people are using it, you put yourself in a better position to leverage it to your advantage.