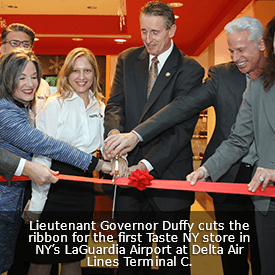 Governor Andrew Cuomo of New York recently unveiled an exciting new type of snack vending machine that highlights healthy choices, supports local agriculture, and benefits the Food Bank of Central New York and the New York Commission for the Blind's Enterprise Program. The Taste NY snack and drink vending machines debuted at the recent New York State Fair.
These exciting new vending machines break away from standard offerings to provide healthy vending machine choices from local New York producers. The vending machines are to be installed at select rest areas throughout the state of New York. Travelers will make their snack and drink choices among offerings from Chobani, Emmy's Organics, Heluva Good Cheese curds and string cheese, Red Jacket Orchard juices, Barkeater Chocolates, Sweet Sam's Cookies, and other local purveyors.
Governor Cuomo is hoping that in addition to promoting healthy New York vending machine snacking habits, the Taste NY program will support and broaden the audience from some of the state's finest food producers. According to the Governor, "The Taste NY Program is continuing to raise the profile of many of our world-class brands, and I encourage all New Yorkers – whether at the State Fair this week or on a drive across the state this fall – to be on the lookout for these tremendous products."
These vending machines will offer more than unique snacks to weary travelers. According to John Murn, Vice President of the New York State Vending Machine Association, "These state-of-the-art machines will feature a rotating selection of food and beverages that represent the diversity and creativity from producers across the State. Highlights from these machines will include video clips from New York-based companies as well as Taste NY videos."
In addition to healthy fare, the Taste NY snack and drink vending machine program will benefit two-state charitable programs. The machines will be maintained by participants in the New York Commission for the Blind's Enterprise Program. New York State Commission for the Blind Associate Commissioner Brian Daniels said, "The Commission for the Blind makes self-sufficiency for legally blind New Yorkers its top priority, and we are thrilled to… provide new jobs and provide more opportunities for individuals who are blind to achieve independence."
Proceeds from the healthy vending machines will be used to support the efforts of the Food Bank of Central New York which provides food for over 11 million meals each year to the state's residents.
The Taste NY snack vending machines will highlight a rotation of products from the larger Taste NY program. More information on the initiative is available at taste.ny.gov.
Source
https://www.vendingmarketwatch.com/management/news/11669212/governor-cuomo-announces-taste-ny-vending-machines-to-premiere-at-the-2014-great-new-york-state-fairhttp://www.vendingmarketwatch.com/news/11669212/governor-cuomo-announces-taste-ny-vending-machines-to-premiere-at-the-2014-great-new-york-state-fair