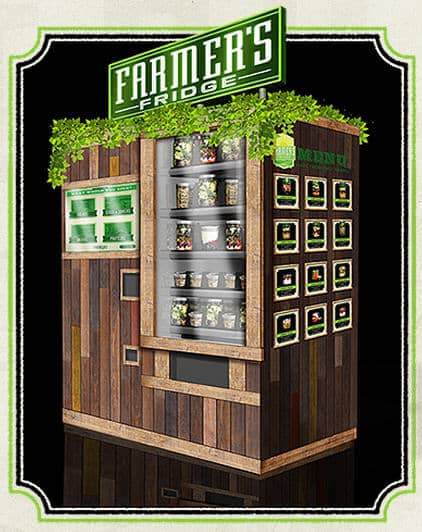 Mid-afternoon hunger pains? Mid-morning snack attack? Forgot your lunch? Imagine walking up to a vending machine during a quick work break, swiping your credit card, and getting a fresh salad for lunch.  For those seeking healthy vending machine options, the wait may be over. Chicago's Farmer's Fridge vending machine is hoping to make fresh food a reality throughout the Windy City.
Don't think of Farmer's Fridge vending machine as an ordinary snack vending machine. You won't find any packaged snacks here. According to its website, it's really a veggie and fresh salads vending machine. Founder Luke Sanders stresses the importance of freshness in his machine's products.
Starting with salads and products that are made by hand each morning after the daily 5 AM delivery of vegetables and packaged in special glass jars, the salads are taken to Farmer's Fridge vending machines where they will be offered for sale. At 6 PM each evening, the products at Farmer's Fridge are discounted by $1.00. When the next day's delivery arrives, employees remove unsold products from the previous day, stocking the machine entirely with new product. Unsold product from the fresh salad vending machines are donated to area homeless shelters.
These incredible products include a menu worthy of your favorite neighborhood eatery with salads, breakfast items, and protein pick me ups. For example,
Antioxidant Salad featuring mixed greens, goat cheese, mixed berries, almonds, carrot, sprouts and flaxseed with a balsamic vinaigrette
Detox Salad with organic kale, organic quinoa, sprouts, fennel, pineapple, blueberries, white beans and cider vinegar lemon dressing.
Greek Yogurt and Berries
Sliced apples with local honey and almond butter
Vegetable strips with hummus
Cauliflower Fried Rice with cauliflower, local peas, carrot, garlic and egg whites
Even the appearance of the Farmer's Fridge vending machine is out of the ordinary. Saunders worked with a vending machine manufacturer to make his unique vision a reality. He envisioned a kiosk with sustainably sourced salads, environmentally responsible containers, and all at a reasonable cost. His machines are made from reclaimed wood, accepts all major credit cards, can email receipts, and features power consumption of less than $25 per month.
Saunders credits improvements in technology such as touch screens and less expensive credit card processing to his success. His company makes use of free technology like Google Docs to track recipes and inventory. Saunders also credits the city of Chicago for less expensive startup costs compared to other cities. For example the cost of the shared kitchen space his employees use daily to prepare product is about one-fifth of what it would be in New York City.
The ability to offer his products in an automated kiosk appealed to Saunders. While he estimates that his labor costs are very similar to those of a brick and mortar restaurants, the flexibility offered by a vending machine played a key factor in his decision. Given that vending machines are everywhere, having healthy options is a must for new players with ideas for a snack or drink vending machine.  Having expanded from three to 14 machines throughout Chicago in a single year, Saunders is proof that fresh sells.