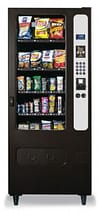 Hello and welcome to the Vending.com Blog! Here at our blog, we will keep you updated on our latest products and promotions, and we will suggest some great ways to utilize our acclaimed vending machines.
For those unfamiliar with Vending.com, we are a one-stop solution for vending machines, vending maintenance, machine financing, parts, news, and more. We sell a wide range of machines to meet the needs of all types of businesses. Whether you manage a busy office and want to keep your employees functioning with a coffee vending machine, or want to offer a wide variety of drinks and snacks in your establishment's waiting area, we have something for you. You can purchase a food vending machine if you want your customers to be even more satisfied or stock up a drink machine with energy beverages at your fitness location. We also sell used vending machines for potential owners looking to save a little money. The possibilities are endless, and at Vending.com we are here with you every step of the way, from purchase to protection.
Interested in our services? Check out our website and browse around for something you like. And be sure to subscribe to our blog and stay in the loop for the latest and greatest in vending!