Late June, the team at Fawn Vending /  Vending.com set up shop at the BPAA International Bowl Expo and had the pleasure of showcasing some of our newest machines. The Bowling Proprietors' Association of America, Inc.'s yearly expo features innovative products and supplies while also holding seminars on topics relevant to the industry.
Offering Factory Direct vending equipment for snack, drink and Pro Shop Supplies, Vending.com was pleased to feature the new-for-2018 'Round the Clock Ebonite Pro Shop bowling accessory vendor, demonstrating its versatility, profitability and merchandising capabilities for bowling center operators.
Available exclusively from Fawn Vendors / Vending.com, one of the nation's leaders in vending machine manufacturing and merchandising, the Ebonite Pro Shop was specifically designed to accommodate bowlers' needs and provide pro shops with the absolute best impulse-purchase profit-making opportunity in the industry today.
The 'Round the Clock Ebonite Pro Shop features 24/7 accessibility and is fitted with proven, high-demand Ebonite products packaged for the all-important impulse purchase environment – an absolute must for vending success.  A Free Ebonite Product Starter Kit with a retail value in excess of $700 is included with the machine to help shop operators start selling from day-one. Ebonite is a fast growing leader in the bowling accessories and products industry.
Equipped with standard cash acceptors and credit/debit reader, bowlers can easily purchase products with their currency at hand.
Securing one of these merchandisers couldn't be easier with one of Fawn Vendors factory financing plans and new owners will appreciate the rugged dependability of this vendor backed by a full warranty. Fawn has been serving the bowling industry since 1931 and is ready to help with any automated merchandising needs including a full line of vendors for snacks and drinks, refrigerated food and frozen dessert products to supplement your current counter sales.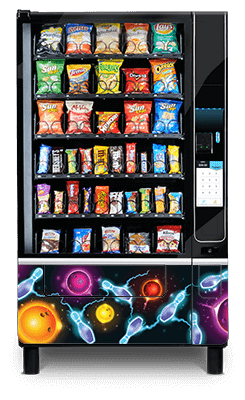 The MarketOne Snack Merchandiser was another vending star at the 2018 International Bowl Expo, featuring all the latest in merchandising and payment system technology. The machine offers a whopping 40 selections of chips, candy, gum, mints and pastries and comes with adjustable flex trays that can fit many shapes of products. Featuring a PayRange® mobile payment system, a 10.1" touch screen, an iVend® money back delivery sensor system, class leading energy saving specs and full sales and accounting features – this vending machine is a no brainer. On top of all that, this vending machine is fully ADA compliant.
And of course, who wouldn't love those quirky bowling theme graphics?
Contact Fawn Vendors today at 1-800-548-1982 or email info@vending.com for information on the 'Round the Clock Ebonite Pro Shop or any vending merchandising needs. 
Until next time,