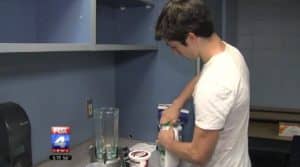 Today's vending machines are more versatile than ever. One Kansas City teen has his eye on building a new type of machine. Marshall Green started an IndieGogo campaign to fund the development of a unique smoothie vending machine that would provide custom made smoothies from fresh ingredients stored within the machine.
Green noticed a need for fresh, nutritious choices as a wrestler in high school. He realized that in the long hours spent at school and practice, normal vending machine snacks and drinks offered at his school weren't sufficient to sustain him throughout the afternoon. On his IndieGogo page, Green wrote, "But like most kids going from 7am to 5pm, I need real, substantial snacks and meals to get me through the day. Unfortunately, chips from the vending machine aren't nutritious enough, and granola bars just aren't substantial enough." His idea came about from the realization that his fellow students and athletes were in the same predicament. They needed readily accessible healthy snack options later in the day.
Green loves the taste of smoothies but notes that they are messy to make at home and impossible to make so far ahead of time. He is planning to work with a vending machine manufacturer to develop a vending machine that will store frozen smoothie ingredients, such as fruit, juice, and milk, and allow customers to create their own custom smoothies. He calls his concept Fresh&Blended and believes it will be a success in academic, library, fitness center, and office settings where customers seek healthier alternatives.
His Fresh&Blended design would allow customers to actually see the fresh fruit they have selected before the drink vending machine blends it for them delivering a cold, healthy drink. According to Green, customers can see that "there is no added sugar like other smoothie products. Fruit, vegetables, and juice or milk-plain and simple." Green believes that delivering excellent nutrition to people on the go will help them achieve their best at school, home, and work.
According to Green, the fact that he is a teenager is irrelevant. He describes his concept as an "idea that I'm all in on, and when I get behind something it really drives and pushes me forward." If he can secure the funding, his plan is to have fresh fruit smoothie vending machines in locations throughout Kansas City in seven to eight months.
If you are interested in supplying your school or public area with healthier snack options, check out this selection of healthy vending machines.

Sources:
https://www.indiegogo.com/projects/a-new-and-unique-smoothie-vending-machine–2
http://fox4kc.com/2015/01/16/teen-entrepreneur-developing-smoothie-vending-machine/