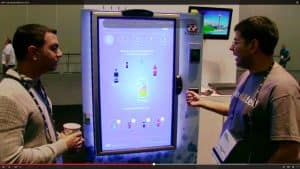 Vending machines are changing – and for the better. According to Forbes, you won't even be able to recognize vending machines in just a few years. So what is expected to change?  The way we buy and how we buy items from vending machines.
To start with, expect to see healthier food items, especially in snack vending machines and drink vending machines. People want healthier food options and are more willing to eat or drink something from a healthy snack vending machine that will make them feel good, while giving them the energy boost they need to get on with their day. In fact, many vending machines have begun to post calorie labels on their food and drink items.
So what else can these vending machines do?
According to Forbes, the future of vending is so smart, that these machines will be able to use facial recognition. In fact, the machine will be able to greet customers, remember their preferences, and even refuse to sell an item to a customer based on age or medical records.
In addition, vending machines are taking hold of the cashless trend as many people prefer to purchase items with a credit card or debit card. To take it a step further, customers won't even need to have a credit or debit card to purchase items from snack and drink vending machines in the future. All you need is an iPhone 6. And if your phone's battery is nearly dead, don't worry, most smart vending machines come equipped with an iPhone charging station – so you can snack while your charge your phone. Also, all payment information is never stored, protecting customers from fraud.
With the customer taken care of, that just leaves the vending machine operators. Long gone will be the days when operators had to physically check every snack vending machine at each different location.  Instead, smart vending machines use technology that allow inventory data to be stored and tracked.  This means that the operator will know exactly when to refill their machines and with what products.
But what makes these vending machines even more unique is their level of interaction. By offering loyalty cards, cell phone charging stations, apps that help customers locate vending machines, and social media sharing options, vending machines are becoming a trendy way to quickly get healthy food and drink, particularly in schools.
While technology is constantly changing the way we interact with our world, with each other, and even with our food and drink, it's no surprise then that vending technology is also transforming to suit our smart, modern lives.
The future of vending machines is transforming to offer healthy options, cashless purchasing, and can even recognize your face.