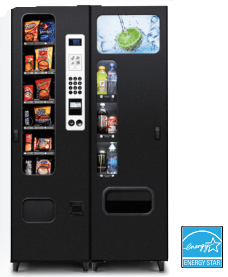 The technology in vending machines has grown exponentially. Vending machines are used for a variety of purposes, which range from healthcare applications to traditional snacks and soda refreshments. Some of the latest technology includes mobile payment options and Apple Pay. However, simplicity can be more productive, and the Trimline Refreshment Center is designed to focus on simplicity.
A Traditional Soda Vending Machine
Do you recall the stories of your grandparents first experiences with vending machines? In many cases, vending machines may have contained few items, but the popularity was undeniable. The Trimline Refreshment Center Returns to the simplistic nature with six beverage selections, and business owners can decide between bottled or canned beverages, such as water, sodas, juices, and more. When filled, the Trimline Refreshment Center can hold up to 144 20-ounce bottles or 312 12-ounce cans. However, the Trimline Refreshment Center takes on another critical concern of vending machine owners, space.
Essentially, the Trimline Refreshment Center is made up of two paired machines, and the drink side weighs 467 pounds. A traditional soda vending machine may be up to 4 feet wide. Yet, the drink side of the Trimline Refreshment Center stands out at a mere 21 inches, which makes it easy to fit anywhere. Furthermore, the lightweight section of this refreshment center makes installation faster and easier than bulkier machines.
Redefining the Snack Vending Machine
Some snack machines can hold hundreds of different various items, but you've probably seen a few vending machines where a few items grow stale and don't sell. This combo vending machine focuses on resolving this problem by simplifying the snack selection to 12 items.
Business owners can select 12 items to fill this machine to its capacity of 152 items. The snack section of the Trimline Refreshment Center offers an MDB coin acceptor and an MDB $1 and $5 bill acceptor. Similar to the drink section, the snack part of this machine is a mere 21-inches wide, which increases the machine's maneuverability during installation or when moving the machine from one location to another.
With a versatile configuration for drinks, independent sections for snack and soda storage, and a simple, customer-driven selection, the Trimline Refreshment Center is sure to please the hunger and thirst of your customers. To find out more about combo vending machine options, contact the vending machine manufacturer directly at Vending.com, or request a quote on the Trimline Refreshment Center today.