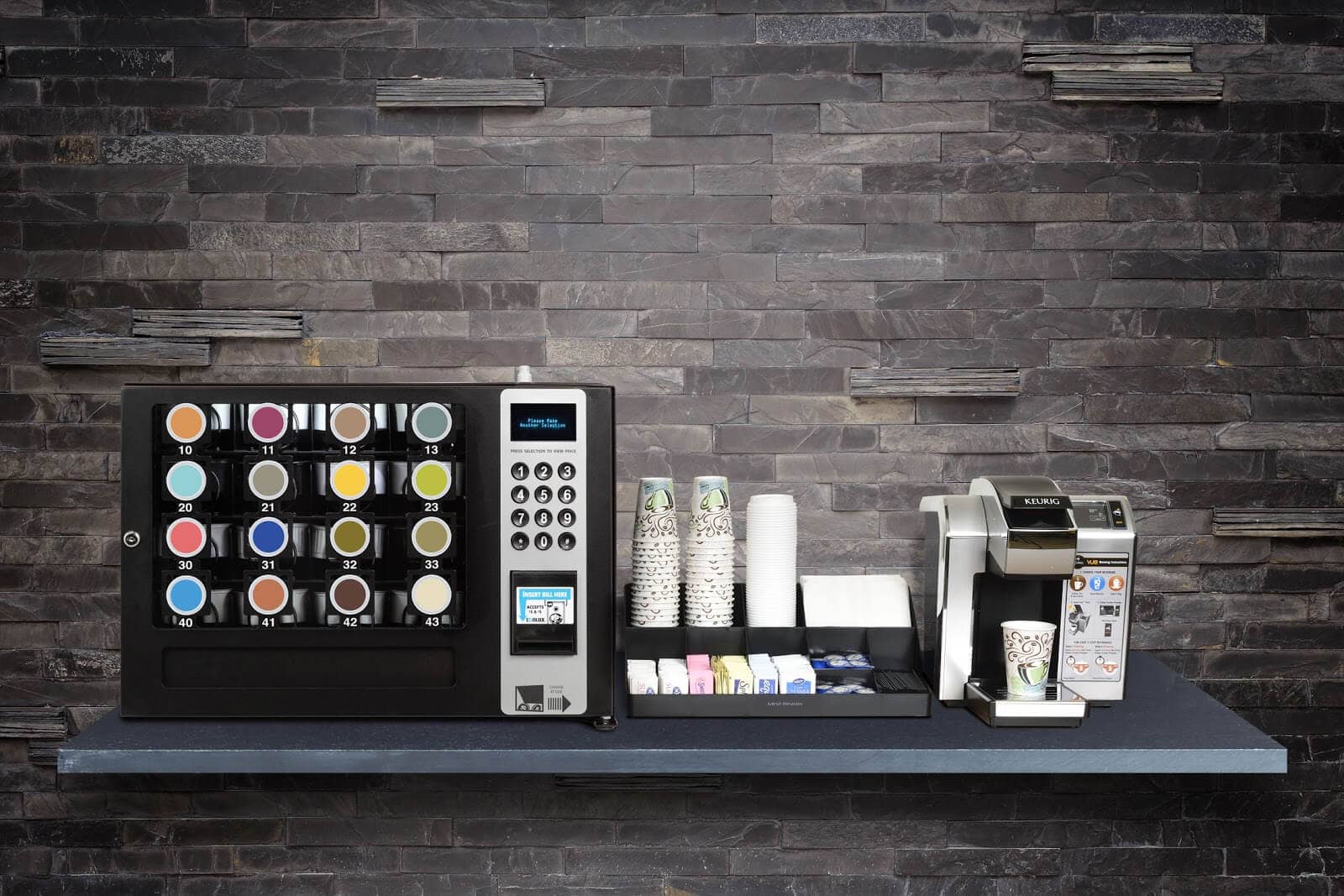 There is one item in every workplace that is almost guaranteed to make your employees happy, especially in the morning. That item? COFFEE! Whether you are trying to wake up throughout the day or even just warm up, you cannot go wrong with giving your employees access to a coffee machine. Some of our favorite coffee machines include the Geneva Coffee Machine and the Cafecture Controlled Coffee Pod Merchandiser.
The Geneva Coffee Vending Machine, which is available in either silver or black, is a great vending option for any office space. Your employees can choose among 36 coffee combinations, including cappuccino, tea, hot chocolate and more. Get a fresh cup of coffee every single morning with a simple push of the button.
Besides the fresh and delicious coffee it brews, there are many benefits to the Geneva Coffee Machine. The coffee machine allows for a single serve coffee cup for your employees, so you never have to worry about making too much coffee, or not enough coffee, ever again. The machine itself has a small footprint, so you do not have to worry about creating a large amount of space to put the machine. One of the best parts of this machine is that it is compatible with Greenlite, meaning that it allows for cashless vending. 
Of course, not every office is in need of an entire vending machine specifically used for brewing coffee. If your office would rather have a single serve pod machine to vend K-Cups. Cafecture Controlled Coffee Pod Merchandiser is for you.   One of the best parts is that it is compact enough to fit on countertops, so you do not need to create a lot of space for it. 
Keeping your employees motivated and upbeat during the day is a huge task, but it can be made a little easier with coffee vending machines, whether it is the Geneva Coffee Vending Machine or the Cafecture Controlled Coffee Pod Merchandiser. If you have questions regarding these machines or any of our other products, please call at 1-855-981-9367.