Social media reaches into the homes, smartphones, tablets, and thoughts of every person daily. However, people do not usually equate social media with vending machines, yet that is exactly what is happening. Vending machine manufacturers have seen the uptick in use of social media as a vending machine campaign to expand their current market. The social vending industry requires users to perform a given task on social media in the hopes of winning a prize. Finding a vending machine for sale doesn't quite describe how the masses have responded to the use of social media vending machine campaigns.
All-Star Prizes and the Cincinnati Reds
With baseball season officially in full swing, the Cincinnati Reds want to show appreciation to their fans, and a social media vending machine campaign was an excellent option. Users would line up at the vending machine, and the machine would generate a unique Twitter hashtag for @AllStarGame. The vending machine provider would then randomly select All-Star Prizes for different people using the corresponding unique hashtag.
Fans won a variety of prizes, which included autographed baseballs by players in the Hall of Fame, former All-Stars, and current Reds players. In fact, at least one person won tickets to the iconic All-Star Game in July 2015.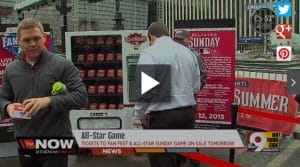 New Balance's Free T-Shirt Promotion
Another social media vending machine is spitting out free t-shirts as a promotional product for a coming New Balance store.  However, some people were skeptical as to if the machine even had any t-shirts at all. Upon reading the Instagram post of one concerned follower, New Balance Philly advised people to try to get to the machine early since it is refilled every morning.
In addition to a free shirt, the Philly New Balance vending machine campaign promises to send out a gift card, valued between $10 and $500, to anyone who happens to score one of the free shirts. The shirts boast white lettering among a red background, and #LoveNBPhilly sends out the message of hitting up the vending machine.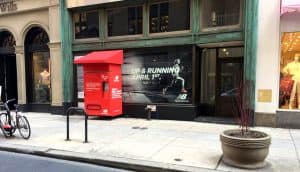 More businesses are looking to increase their profits, and the vast inter-connectedness of social media offers an excellent outlet for combining vending machines and social media. By promoting events, products or services, a vending machine manufacturer can enhance an organization's image without expensive marketing campaigns. Candy bars and sodas won't be the only things in a vending machine for sale anymore; the selections will be amazing prizes, free gifts, and opportunities for once-in-a-lifetime events.