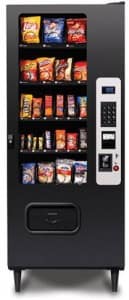 Many companies that purchase snack vending machines and drink vending machines spend far more time worrying about items they'll purchase to put into the machines than the actual vending machines themselves. That's not always the best course of action, so we wanted to help guide you in purchasing your vending machine.
Whether the interest is in purchasing a used vending machine or buying brand new products as they roll off the assembly line, it's important to know a few critical details about vending machines before making the decision to buy.

How long should vending machines last?
Vending machines should last ten years or longer. Vending machines are an investment. It's important to make sure the investment is one that's meant to last at least ten years in order to be a cost effective business choice.
What is the outlook of the vending sales company?
Businesses in many industries come and go. It's important to look at the past and present of businesses before entering into partnerships with them. The history of the company and the way the company runs today has a significant impact on the future of the company. What you really want to know is that the company will still be around to serve your vending machine needs ten years from now.
Does the company stand behind its products?
This is perhaps the most important detail to know of all. No one wants to do business with a company that doesn't make a visible show of faith in its own products. One of the most telling ways businesses can do this is by offering warranties and/or guarantees on the products they sell or service.
Does the business offer local representation to serve your needs?
The key is to work with businesses that have a local presence for a quick response when problems arise. Problems arise and repairs need to be made on occasion. When these things happen, getting the machine repaired and back in service quickly is a priority. This is much more likely to happen when there are local representatives available to see to these details.
Making the right decision is not always as simple as it seems. However, knowing the important factors to look for first, like those in our vending guide, helps you narrow down your choices in order to make an informed decision that will best meet your business needs.