Companies of all types have long been looking for ways to use the marketing power of social media to their advantage. After all, sites like Facebook, Twitter, Instagram and more all come with active user bases in the hundreds of millions of people – who wouldn't want to tap into that? In the 21st century, companies are using social media marketing techniques to do a whole lot more than just send out the occasional clever tweet. Many companies are leveraging the power of social media with the benefits of the common vending machine to create a situation so enticing that people everywhere can't help but notice.
Free Promotions
One of the best recent examples of using social media vending machine equipment takes the form of a promotion executed by the Boston Red Sox. The Boston Red Sox rented a vending machine that was connected to the social media network Twitter. If a user was in the vicinity of the machine and tweeted using a specific hashtag, the machine would dispense certain products.
The real crux of the idea, however, was that a signed jersey from one of the Red Sox's star players was inside the machine. One lucky Twitter user could use the right hashtag to win the jersey, creating a situation that fans came from all over to participate in.
Old Navy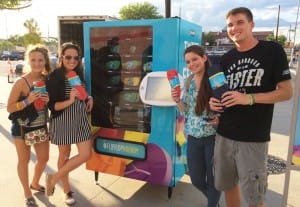 Another example of a company putting vending machines to good use is Old Navy. Every year, Old Navy has a sale where they discount a huge number of different pairs of flip-flops to just $1. One year, Old Navy took the promotion to the next level with the involvement of 36 different social media powered vending machines in New York City and Los Angeles. If a customer came across the machine, all they had to do was log into Twitter from a tablet that was attached to the machine itself and answer a few questions in a survey.
Once the survey was completed, they could then specify their shoe size and take home a pair of flip-flops to call their own. One user also won a $5,000 vacation package, generating buzz for the campaign that was impossible to ignore.
These are just a few of the many ways that companies are using social media enabled vending machine units to their advantage. As you can see, vending machines are no longer just for selling snacks in between shifts at work or for picking up the occasional soft drink in between classes. They're a full fledged marketing channel that can generate millions of dollars a year in revenue if utilized effectively.