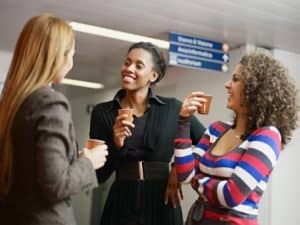 November 21st is World Hello Day. The goal of this holiday is to promote world peace by getting people to say hello to each other and break down the barriers that are created when we do not know someone else well enough. Introducing yourself, or even just saying "hello" to someone can create a positive and friendly atmosphere that will carry on throughout the entire day.
At Vending.com, we love this idea. People have always talked about "meeting at the water cooler" or the modern day equivalent, drink vending machine. To celebrate this holiday in your office, what places could you meet someone new or say "hello" to someone? Food and drinks are the perfect way to bring people together and casual settings like cafes, dining areas or vending machine areas function perfectly as social gather places.
We challenge you to use this entire week as a time to meet new people and create a more positive environment at your workplace just by saying hello and acknowledging the people around you. Who knows, you might meet a new best friend or learn something you would have never known!