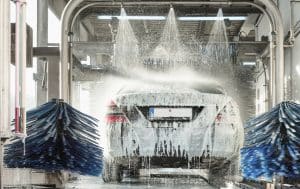 Satisfy your customers by satisfying their hunger! This is one of the lines 10 year old Owen Lefkovits used to convince Castle Car Wash to let him own a vending machine in their waiting room.
          Lefkovits was surprised there wasn't already a vending machine at Castle Car Wash when he and his mom stopped by one day after swim practice. After collaborating with his family Lefkovits crafted a presentation for his business idea to deliver to the car wash owner.
          Unfortunately, Castle Car Wash purchased a vending machine before Lefkovits's presentation. However, the boy persuaded the company to let him own and run the machine because it would be more beneficial to have someone local maintain the machine. Lefkovits's picture and bio are now on the machine letting customers know their business is appreciated.
          Lefkovits got a loan from his grandma and off he went running the machine. He tracks purchases and comes by every week to restock the machine. Lefkovits also handles calls if there are any issues, even when on vacation.
          Do you see opportunities to earn money through vending? Vending.com can help you place a vending machine in your community. We will walk you through the process and answer any questions you have about setting up vending machines. Take a look at our wide selection of combo, snack and drink machines to find exactly want you need for your business.
Courtesy Forsyth News