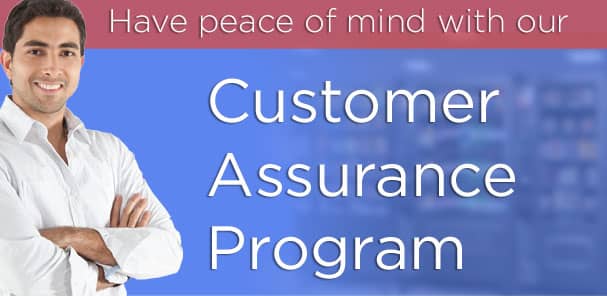 Purchasing a top-quality vending machine is only part one of your vending investment. Maintaining your machine to perfect working order is crucial to the ultimate profitability of the venture. As vending machine experts with an 85-year history of excellence, we fully understand the concerns of vending machine owners with all degrees of experience, from first-ever machine purchasers to skilled veterans: how can I ensure my machine stays in perfect working order?
Vending.com grants you peace of mind with our Customer Assurance Program. This program provides our customers with both an Extended Vending Machine Warranty on parts AND a Maintenance Program on our newer machine models. This program ensures your machine is covered and will run problem-free for many years to come.
Here are some additional features of this incredible, value-filled program:
COMPLIMENTARY LIFETIME TECHNICAL SUPPORT:
You heard us right: technical support for as long as your machine shall live. You receive toll-free access to our technical support staff via VendNet's Phone Support staff for the life of the machine.
TWO YEAR PARTS WARRANTY:
The program allows for a grace period of two years, where defective parts will be repaired or replaced at no additional charge to you.
THREE YEAR PREVENTATIVE MAINTENANCE PROGRAM:
The Customer Assurance Program also includes a "well-visit" for an overall checkup of the equipment, payment system, and hardware. Adjustments, if necessary, are made to ensure the smooth operation of the machine. The Preventative Maintenance Program begins after year one, and extends annual visits into years two through four.
We'd love to help you gain more peace of mind by joining our Customer Assurance Program. Please get in touch with us to learn more!