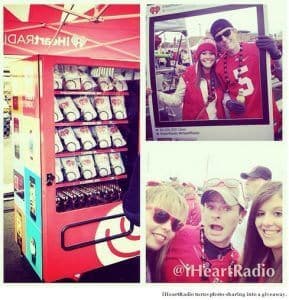 Ever thought of promoting a brand by offering merchandise in exchange for social media exposure? That's exactly what's happening on an iHeartRadio tour featuring a t-shirt vending company that accepts Instagram photos as payment for merchandise.
The marketing campaign is targeting college students by setting up these vending machines at the Universities they visit throughout the Midwest and South.
How does it work?
The consumer touches the screen
Retrieves a unique four-digit code
Takes an Instagram photo
Tags it with hashtag #iHeartRadio followed by the unique four-digit code
Retrieves their swag – either iHeartRadio t-shirts or iHeartRadio emblazoned sunglasses.
The Instagram photo can then be shared and re-shared all over social media, including Instragram, Twitter, and Facebook.
It's that simple.
The days of setting up tables and tents and giving away pens and magnets to promote brands are over. Instead of trying to lure consumers to temporary tents and trying to unload free stuff, vending machine companies have really come up with a genius marketing campaign that attracts consumers directly to the vending machine like magnets and then gets them to interact and spread their message.
The idea of interacting with the vending machine using social media is truly novel. And although the merchandise is essentially free, the consumer has to put some effort in, but the effort is something fun, something he or she likes to do anyway, whether or not they get a free pair of sunglasses.
Social media vending machines can be rented or bought from vending machine manufacturers and companies, which are integrating this technology as an innovative new way to enhance a brand's awareness and visibility. Additionally, social media vending machines for sale may also include a used vending machine, lowering the initial investment to get your brand or service out there.
This is a fun way for people to share photos, which is something they like to do anyway, and then receive something free in return. The benefit for brands that participate in this campaign is also quite significant. After all, who wouldn't brag about getting a t-shirt, sunglasses or keychain just for sharing a photo? This creates an interactive buzz about products and brands that will reach much further than any type of traditional advertisement or television commercial.
So are vending machines that exchange swag for Instagram photos the wave of the future? Time will tell, but there are few who would turn down this easy way to score some free stuff!
Source:
http://www.adweek.com/digital/iheartradios-vending-machine-turns-instagram-photos-swag-160986/