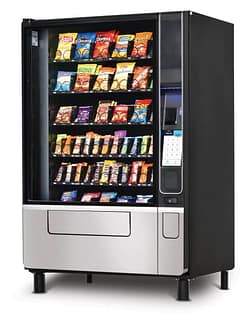 With a new year comes a new line of vending machines for Vending.com. We are very excited to announce a new line of vending machines called MarketOne Snack vending machines. This line includes two revolutionary vending machines that will change the way you think of vending. These products are the MarketOne Snack 6W and MarketOne Snack 5W vending machines.
One thing that stands out about MarketOne snack machines is the sleek design and style. They offer a large merchandising window and enhanced LED lighting, so your products can be properly displayed to your customers. They also offer a high selection for your customers to choose from. The MarketOne Snack 6W allows customers to choose from 56 selections, where the MarketOne Snack 5W offers up to 40 selections. 
MarketOne vending machines include a variety of standard and optional features to take your vending business to the next level. These machines are easy for everyone to use, as they are Americans with Disabilities Act (ADA) compliant and include an ergonomic customer interface and Braille keypad. They also come with iVend guaranteed delivery technology, so your customers will always be satisfied. If a product does not vend correctly the first time, they will receive their money back to try again or try a different product.
There are a variety of payment options that are available with the MarketOne vending machines. They come standard with a cash/coin bill acceptor, as well as the PayRange mobile app, so your customers can pay directly from their mobile device. You can upgrade this feature, however, by adding on Greenlite, which allows your customers to pay with credit/debit cards or their mobile wallet. You will never have to lose out on a sale again because of payment issues.
Other features on MarketOne products include upgrading your display to a full-color 10.1" touchscreen display. Customers will be able to browse products, view calorie information and purchase up to three products in one transaction. It also gives you the chance to have a static image or video advertising on your vending machine. The MarketOne Snack 6W vending machine has an optional 7th tray, so you can provide your customers with even more product choices.
MarketOne Snack vending machines are unlike any on the marketplace and it is easy to see who. If you would like to learn more about these products, give us a call at 855-929-1085.