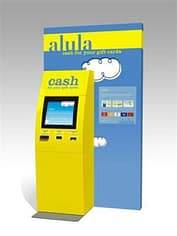 Chances are you have used a credit gift card to buy treats at your local snack machine, but you probably never used gift cards like this. According to The Columbus Dispatch, a new gift card exchange kiosk in grocery stores is giving out cash in exchange for unwanted gift cards with leftover value.
Those that frequent the central Ohio Giant Eagle grocery store will find an all new machine titled Alula, which comes from the same people responsible for popular products such as Coinstar and Redbox. How does this all work? Exactly how it sounds. All you need to do is insert your unwanted gift card in the machine and you will immediately receive cash compensation that matches the value on the gift card. According to Alula's marketing manager, this unique gift card to cash machine is an exciting way to draw people into their local grocery store when they normally wouldn't. This innovative vending machine formula has worked with the aformentioned Redbox and Coinstar devices and people are often left with unused gift card value, so this new venture could very likely be a success.
Supermarkets and snack vending machines have gone hand in hand since the gumball days, and it is exciting to see their relationship reach a level where anything from movies to cash can be procured from supermarket machines. What could be next?