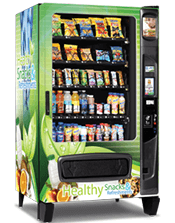 Here at Vending.com, we work closely with our trusted affiliates who are as dedicated to providing our clients with the best drink and snack vending machines as we are. One of our many proud partners is 
Healthier Vending
, who specialize in providing schools with health-conscious vending machines.
While the average school vending machine is likely stocked with sugary colas, greasy chips, and fattening chocolates, Healthier Vending's machines are specially designed to keep in line with healthy food trends and promote a healthy lifestyle while still carrying plenty of tasty treats. Some of the featured products in a Healthier Vending snack vending machine include Baked! Lays, Nature Valley bars, Rold Gold pretzels, and V8 juices. Who said healthy snacking had to be tasteless and boring? According to a recent testimonial from a Healthier Vending client, a specialized healthy vending machine made over $1,200 in its first few weeks, proving that there is still plenty of profitability in healthy food trends once you take junk food out of the equation.
Recent news stories reveal that cities are 
cracking down
 on the caloric content of their vending machines in an effort to encourage healthy habits. Providing  healthy food products is more important than ever and the 
vending machines for sale
 from both Vending.com and our affiliates make it easy and affordable to help your customers cut down the calories.