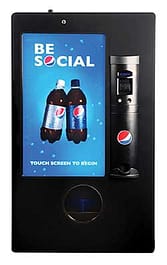 The Intel Corporation took to the National Retail Federation trade show in New York City to show off a few of the exciting plans the vending machine business has made for 2013. As reported by the Vending Times, the machines on display ranged from new-age concepts to high-tech versions of classic drink and snack machines.
A new coffee vending machine from Costa Coffee turned many heads at the event, as the product serves a coffee shop-sized assortment of hot drinks and uses facial recognition technology to "guess" what an incoming customer might like. The UK-based Costa Coffee company currently has 2,500 machines of this kind in operation. A mainstay in the vending world since the beginning, PepsiCo was also on hand to show off their latest and greatest. Pepsi's interactive, social-media compatible drink machine was on display at the event, grabbing attention with its unique wireless purchasing options. Pepsi machine users can "gift" their friends a drink simply by texting a special gift code, which can be redeemed at any Pepsi machine that supports the technology. Patrons can also view nutritional information on the machine and play a random-chance game that can win them a free 20 oz. soft drink.
Here at Vending.com, we are constantly inspired by vending innovations such as the ones on display in New York City. If you feel the same, our affordable vending machines for sale are a great way to enter this exciting industry!