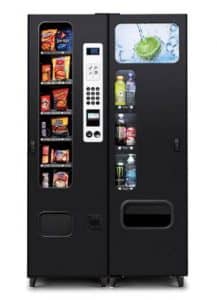 To keep customers returning to your vending machines you need to have a variety of products that will satisfy their needs and keep them interested. Providing variety in your vending machine selection is key to a successful vending business but sometimes having sufficient space for large or multiple vending machines can be an issue.
A perfect solution to this is a combination vending machine that is able to vend multiple varieties of products all from one machine. Vending.com has a large selection of these space-saving vending machines for sale, such as the Trimline Refreshment Center. This machine is able to vend up to 12 selections of chips, candy and pastries with a maximum capacity of 152 units. The drink vending part of the machine can vend bottles or cans, holding up to 144 20 oz bottles or 312 12 oz cans.
This machine also features easy-loading tilt out trays, simple controls and quality construction. To save energy usage, and to save money for vending machine operators, our combination machines are Energy Star Rated. These machines are perfect for break rooms or offices that need to maximize space or cafeterias were patrons will expect more than one type of item.