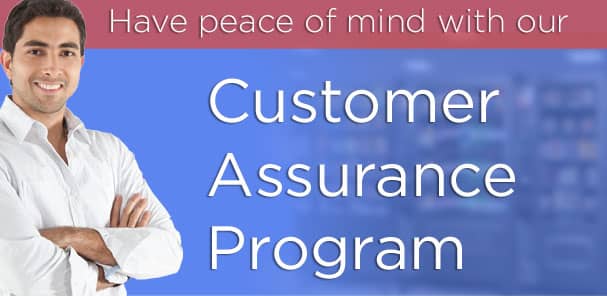 Why join Vending.com's Customer Assurance Program?
If you're Vending.com customer, you've got nothing to lose and everything to gain. Vending.com's Customer Assurance Program provides customers with an Extended Parts Warranty and Maintenance Program on new models of machines. This provides YOU,  the customer, the  assurance that your equipment is covered and will run trouble-free for years to come.
Customer Assurance Program Features:
#1: Complimentary Lifetime Technical Support:  Vending.com's Customer Assurance Program provides customers with toll-free access to technical support via VendNet's telephone support for the ENTIRE life of the machine. This means that you can get LIVE support from a real human over the phone for FREE, for as long as your machine lives. This feature alone can potentially save you thousands in technical support fees.
#2: Two Year Parts Warranty: Under Vending.com's Customer Assurance program, defective parts will be repaired or replaced for a two (2) year period. If you should run into any issues with your vending machine parts, Vending.com will fixed at no cost to you for a full two years post-purchase!
#3: Three Year Preventative Maintenance Program: Our Customer Assurance Program includes an overall check-up of the equipment and payment system, plus adjustments if necessary. Preventative Maintenance Program begins after year one (1). Additionally, you will receive  Preventative Maintenance Program visits annually into years two (2) through four (4). What does this translate into? FREE Vending Machine "checkups" for the first four years of your machine ownership.
How do I sign up for the Vending.com Customer Assurance Program?
Contact our team at Vending.com today to learn more about joining the CAP Program. We're excited for you to join this unique group of profit-savvy vending machine owners in taking the smart, preventative move that save you thousands of dollars and gives you priceless peace of mind.