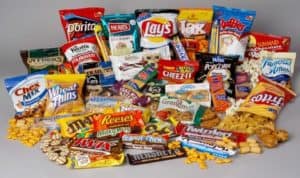 Americans sure like snack foods! Snack vending machines are wildly popular throughout the 50 states because the convenience of delicious snack foods at great prices is an unbeatable combination. When you purchase a vending machine, you should do some research into what items to stock in your machine. How do you conduct this research?
Take a look at those who populate the area you'd like to install the machine. If you're a medical facility, perhaps people are looking for healthier options, and/or sugar-rush inducing options. Ask your employees/patrons what they'd like to see. IIf you're still unsure about what to stock in the machine, take a look at our Top 10 Must-Have Vending Machine Snacks for some inspiration:
10: Crackers (cheese, peanut butter, etc. )
9: Bars (nut bars, granola bars, nutrition bars etc. )
8: Cookies (sugar cookies, chocolate chip, Oreos™, etc. )
7: Nuts (peanuts, cashews, almonds, etc.)
6: Breath mints (gum, sucking candies, etc.)
5: Chips (wavy, barbeque, Pringles™, etc.)
4: Gum (fruity, cinnamon, long-lasting, etc.)
3: Chocolate (Hershey™, Mars™, etc.)
2: Pretzels (salted, mini, etc.)
1: Candy – from Mike and Ikes™ to Starbursts™, and anything in between, candy is always a must-have in every machine.
If you have any questions about stocking your snack and/or food vending machine, get in touch with one of our representatives! We'd love to help make this process as smooth as possible. Still looking for the perfect snack machine? We've got you covered. Visit the Vending.com site and browse our amazing vending machines for sale.