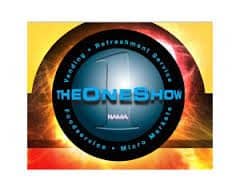 The NAMA OneShow just wrapped up a few weeks ago in Las Vegas, giving all members of the vending machine industry a glimpse of what the future of the business is looking like. The annual big event was bigger than ever this year, as NAMA revealed that this year's convention set a new record for show attendance.
According to Vending MarketWatch, this year's OneShow broke records in both crowd attendance and exhibitor numbers.
"Our industry is on such an important growth trajectory and the NAMA OneShow certainly is reflective of that," said OneShow Executive Director LyNae Schleyer in a statement. The show was met with tremendously positive feedback from new exhibitors and industry veterans alike, as the event allows both big and small brands to grow their businesses.
The NAMA OneShow is an annual celebration of all things vending and includes everything from speeches to product demonstrations from people all over the vending industry. This year's event was headlined by keynote speeches from Newt Gingrich and Magic Johnson and had high-profile sponsors such as Kraft and Hershey's.
We're thrilled to know that the OneShow was a huge success, and we certainly are looking forward to next year's event. If this year's OneShow has you inspired to enter the business, our snack vending machines make a great place to start!